When it comes to construction debris removal, there are many ways of getting rid of it. There are roll off dumpsters, junk removal companies, and Waste Management bags.  Roll offs (40 cubic yards) are nice if you have the space and have a huge project ahead of you.  In the San Diego area they start at $490. That includes the first 6 tons and after that it is $70 a ton. At Clean Green Hauling, we are one of the least expensive companies in San Diego for construction debris removal. Our rates are by the trailer (14 cubic yards) $390).  That includes all fees and we load it for you. We can hold up to 3 1/2 tons in each trailer load. If it is less than a full trailer, it is prorated to the amount of space taken up in the trailer.  The other option is WM green bags. in the San Diego are they can be purchased for $29.95.  Then they cost $169.00 to be picked up.  WM Management bags hold up to 3,300lbs (just over 1 1/2 tons).  They also have strict restriction on what they will take as construction debris removal.  Also be careful, they do not cover all areas of San Diego.  The smart decision for construction debris removal on small to medium size jobs is Clean Green Hauling Junk Removal Service.
WM Bag restrictions and cost.
Great news! Collection service is available in 92109
One Bagster bagfor first Mixed Waste Load of 3 cubic yards (3,300 lb weight limit)
$169.00
$0.00
$169.00
Additional Bagster bagsfor each additional Mixed Waste Load collection of 3 cubic yards (3,300 lb weight limit)
$129.00
$0.00
$129.00
Additional Bagster bags must be picked up at the same time and same address as the first Bagster bag in order to receive the discounted price.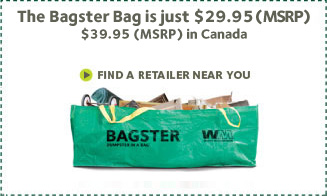 *Mixed Waste Load
ACCEPTED
NOT ACCEPTED
Household junk
Construction debris
Yard waste
Dirt/Sand/Rocks**
Sod**
Appliances
Electronics
Tires
Food waste
Large Stumps
Toxic/Hazardous Items ***